Product news
e.drive BASIC new features
The MWDRIVE software of Metal Work's e.drive programmable drive has been expanded with the addition of the BASIC section which allows intuitive programming in the case of simple movements. Just download from the Metal Work website and install the updated software from version MWDRIVE 1.3.0 and up.
You don't need to perform any firmware updates to use it (*).
Specifically, the new section provides for:
A simpler and more intuitive graphical interface
Tools for simplified configuration
Pre-configured digital inputs and outputs
A predefined cycle with configurable movement profiles
The possibility of performing the "on-the-fly" speed change in a smooth manner (**)
The BASIC section is accessed from the main menu:
(*) Software compatible with firmware versions from MCT2013A1-01.02.dfu and up.
In the Setup section it is sufficient to enter the Elektro actuator code to ensure that the various fields are filled in automatically. However, manual compilation is always possible.
The user is prompted to enter:
the resolution relating to the microstepping method to be used
the maximum rated current of the motor (which can be found on the motor datasheet)
encoder specifications if the motor is equipped with one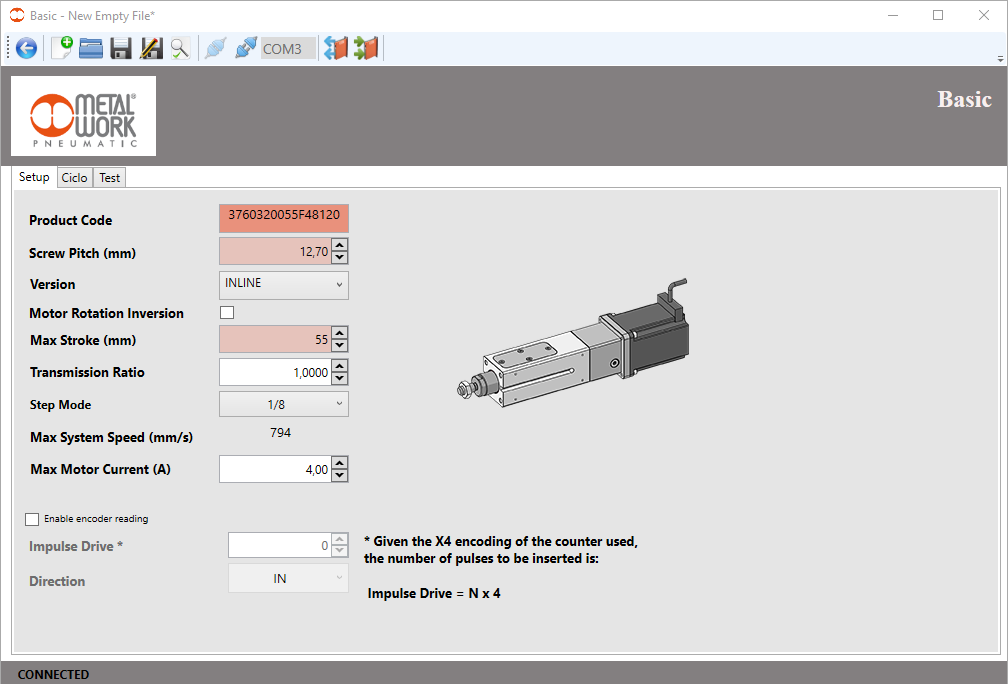 All basic configurations and features are already active and pre-configured:
Automatic management of the holding brake
Reset alarms
Homing by limit switch
Jog speed
Analog output (0÷10 VDC) corresponding to the stroke (mm) of the actuator
Digital inputs and outputs according to the wiring schema below: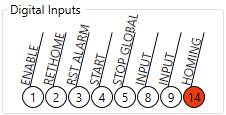 The cycle is already defined and provides for a going phase and a return phase called Movement1 and Movement2.
Each cycle phase consists of the following instructions that can be activated via checkboxes:
W (W1, W2): waiting (Wait) for consent to movement by dedicated digital inputs activation (IN8 and IN9). This feature is optional.
M (M1, M2, M3, M4): movement (Movement) which can be trapezoidal by ticking only M1/M2 or with a "on-the-fly" speed change by ticking M3/M4. M1 and M2 are required while M3 and M4 are optional.
P (P1, P2): pause (Pause) if you want to insert a pause at the end of the movement. This feature is also optional
For each phase it is sufficient to enter the stroke (in mm) and speed (in mm/s). Acceleration (mm/s2) and current (A) can be easily set through the relative controls.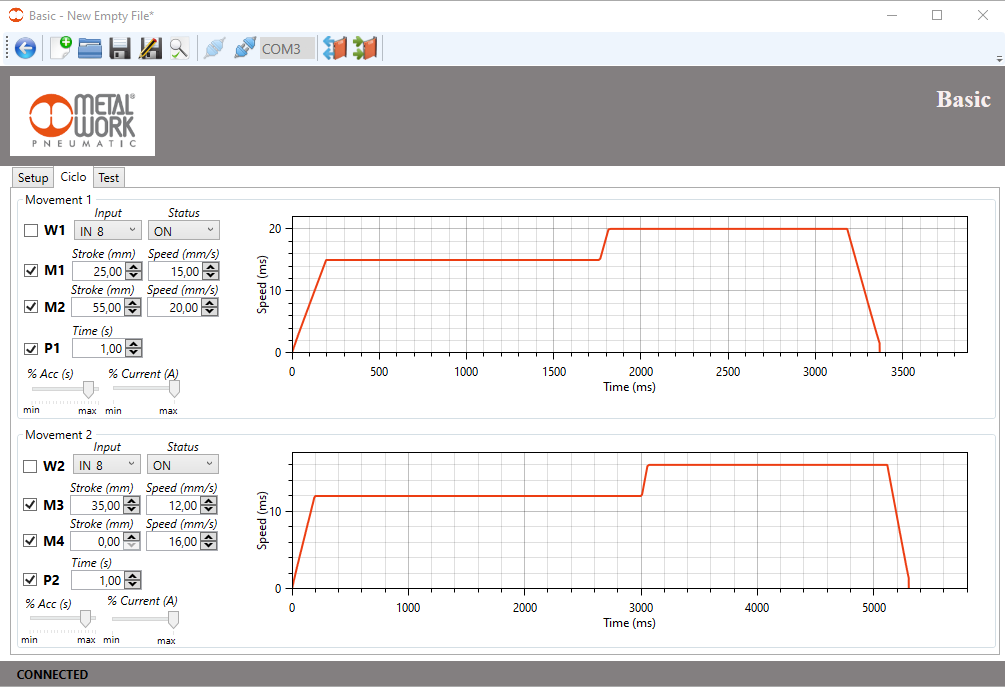 Once the Setup and Cycle data have been compiled, simply download it onto the board for the changes to take effect.
(**) As can be clearly seen from the graph relating to the movement instructions, the speed profiles of both forward and return movements are automatically linked.
In the Test section it is possible to interact directly with the software in manual mode. This is useful to be able to test configurations and cycle during the initial commissioning phase.
By pressing the START button the cycle is carried out. Graphically they are shown in real time:
the actual position by the actuator expressed in mm:

the speed profile (mm/s) of the two movements as a function of time (s)
Video